Hello, my dear followers,
As I write this 2018 is coming to a close. This was my first full year of blogging as well as the first full year for my Youtube channel. It has been such a wonderful adventure and I have loved sharing all my projects with you guys. I learned a lot this year and I gained lots of fun supplies that are new to me but may be old favorites for you guys. I thought, what better way to close out 2018 then reflect on some of my favorite supplies, do a top ten for you and share a look back on projects I made with them.
Let's hop right in and get started!
First on my list is the Ranger Ink- Dina Wakley- Large Media journal: at first I had the regular size one, then I was gifted this one by my hubby for Valentine's day and I love it. Whenever I want a challenge I just pull it out and see where the page takes me. I enjoy having such a large area to work on
In this video I did a full page spread of a Ganesh image in the journal: Watch Video
In this next video, I actually sewed in the journal! Now that was a fun challenge: Watch Video
Second on my list are the Ranger Ink- Dina Wakley- Media Scribble Sticks- Set 2. The colors in this set really called to me and are the main reason I purchased them. I will admit at first I struggled with them when I was just trying to apply them dry to the paper and then add water. Later though as I learned to wet them first, I found I really loved how smooth they were, the vibrancy and they turned into great watercolor pigments for my Holiday cards.
In this video I used my Scribble Sticks 2 to color in some Dina Wakley Stamps for pre-made on the go images: Watch Video
In this video I used my Scribble Sticks 2 to color in Christmas notecards: Watch Video 
Third on my list is the Tonic Studios- Tim Holtz- Stamp Platform. Now this one I was hesitant to buy as I was doing a lot in my art journals and on canvas and you can't stick a journal easily into the stamp platform. I came around though and found this product wonderful for making tags, pre-stamping images to cut up for coloring later and it saved me at Christmas this year with my card making.
I used the stamp platform on this mermaid Alcohol lift-ink background: Watch video 
I also used the stamp platform to create these cute embossed Cat Christmas Cards: Watch Video
Fourth on my list is Alcohol Lift-Ink I really love the versatility of this product and how nothing is wasted, what you remove if you are using a stamp can be restamped on another image and you end up with two projects instead of one.
I use Alcohol Lift- Ink to create some custom tags in this video: Watch Here
I also tried to think outside the box with the Alcohol Lift-Ink and used it with my art foamies too! Watch Here
Fifth on my list is Distress Resist Spray. When this came out I was really hooked I love that you can use it thru stencils to create unique textured backgrounds or spray it ahead of time to save a background you love before working over top of it.
I used it on this mini journal spread page to create a bohemian stencil background: Watch Here
I also used it on this tag to create a Victorian style patterned background with a floral stencil: Watch Here
Sixth and Seventh on my list as they go hand in hand are Distress Oxides and Distress Micro-Glaze. I am addicted to Distress Oxides and they are my go-to supply for background and stamping. Then when I discovered the micro-glaze that can seal the Distress Oxide it made them my favorite tool in my kit.
I used Distress Oxides and Micro-Glaze to create these Halloween Artist Trading Cards: Watch Video
I used DIstress Oxides and Micro-Glaze to make these quick fall leaves on my Cricut: Watch Video
Eighth on my list is Dylusions Paint. Next, to my Distress Oxides these are my favorite paint to use especially on any Dylusions Paper.
I made this full page spread in one of my Dylusions Journals using the paints: Watch Here
Here is a sample of a Gelli background I made using my Dylusions paints: Watch Here
Ninth on my list is Dylusions Shimmer Spray. These I use sparingly as I love them and hate to use them up. I went from paper to 3D with my sprays this year using them in journals, tags and then on some Tim Holtz Woodland Trees for the holidays!
I tested shimmer sprays in my black Dylusions journal to make this page: Watch Here
I also tried them on a black tag: Watch Here
Lastly, I used them to make beautiful Christmas Trees: Watch Here
Last but not least the tenth item on my list is the Tonic Studios- Tim Holtz Glass Media Mat. Now I don't have a particular video for this one but since I purchased this mat halfway thru the year you can see it in many of the videos on my Youtube Channel
I hope you enjoyed my little recap of some of my 2018 projects. I have more treats in store for you in 2019 including starting my own facebook journal group with monthly prompts. I will post on that when it is up and running. I also hope to be releasing new stencils this year and bringing you at leat 5-6 vidoes a month starting in February.
Currently my studio is in the year end overall phase (which means I can't find an empty tabletop), I also purchased some new ikea furntiure for storage and I will share those before and after photos with you soon.
Thanks for following along guys and here's to a fantastic 2019!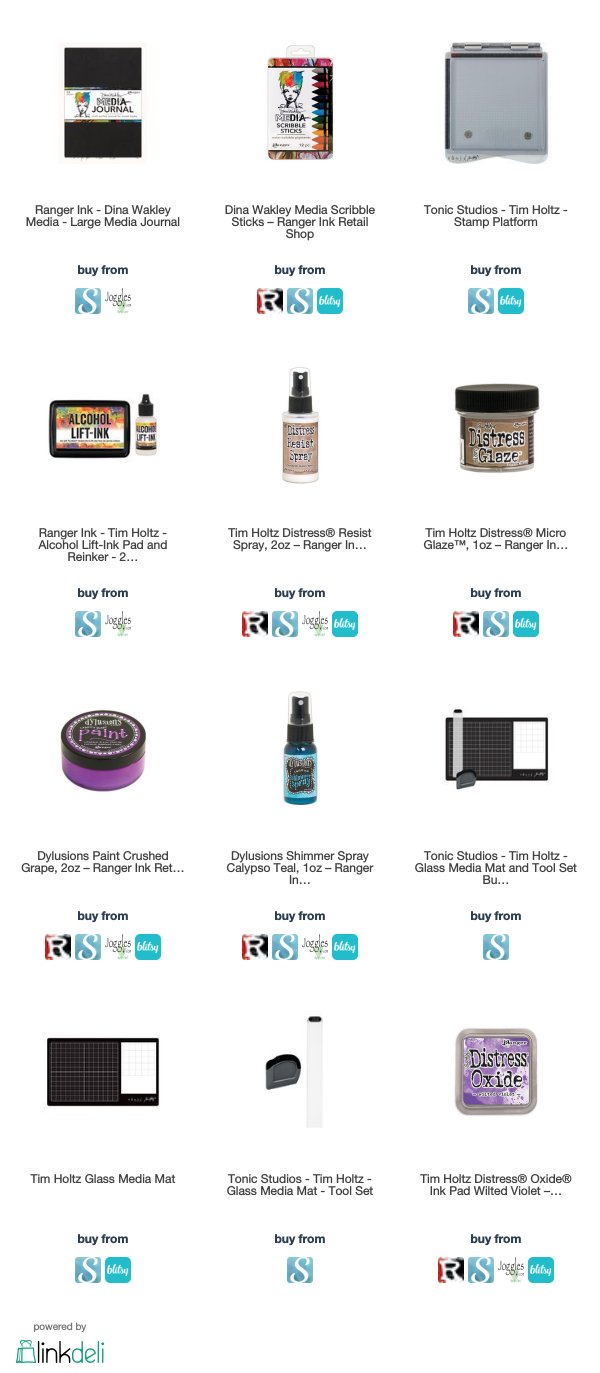 Please follow and like us: