Happy Saturday,
Phew is it really June. For most people that means kids out of school, summer plans, summer vacations. For makers like me, I am thinking about the fall holiday season. I know I know it's still months away right, but my brain is going. I am thinking of all the wonderful tutorial videos I want to make and share with you guys for the holiday season. So on top of that brainstorming, I took a little holiday myself this month. I went to visit my sister in Texas and in doing so rediscovered my love of vintage treasure hunting! So expect to see some of that mixed in on my site now as well.
Now I know what you are really here for so let's get to it! It's the second Saturday in June, which means over on the Side Street Design Studio Facebook Group I have released the June prompt card and challenge. If you would like to follow along please be sure to click this link, and head on over to the page and join in the fun. You can easily download the prompt card there and post your own version of art. Join us as we strive to think outside the box each month and come up with new ways to love our favorite supplies.
Here were this month's prompts:
So for this month I went to work in my Dylusions black journal and took on the challenge of shimmer sprays. I love collage and I was determined to use it with these water reactive sprays. It was a little bit of a challenge, but in the end, I loved the result. I also have noticed I am on a bit of a cat theme lately it seems. Nothing wrong with that though. We got to go with what we feel.
You can watch the process video on my Youtube channel: June 2019 Side Street Design Studio Prompt Challenge
Here are photos of the finished page:
So here are some tips and tricks I learned from doing this page:
1. You can use a white china marker to write over Dylusions sprays when they are dry and so far the spray has not absorbed the white!
2. If you want to collage over shimmer sprays, apply the collage medium to the back of the tissue off page, then gently place the tissue on the page. Use a brush on top of the tissue to gently dab it down. Do not apply the collage directly to the page or all your colors will run.
3. Remember Dylusions Sprays are water reactive so although they dry they will reactivate if wet. Keep that in mind if you are journaling, so you know how to work your we layers first.
4. Have fun! Keep pushing thru!
I look forward to seeing your work over in our facebook group!
Below you will find a list of all supplies used. Please note these are affiliate links which means I do receive a small percentage of purchases made. The proceeds go to help run the blog and my youtube channel so I can keep sharing my passion with my crafting family. Thank you.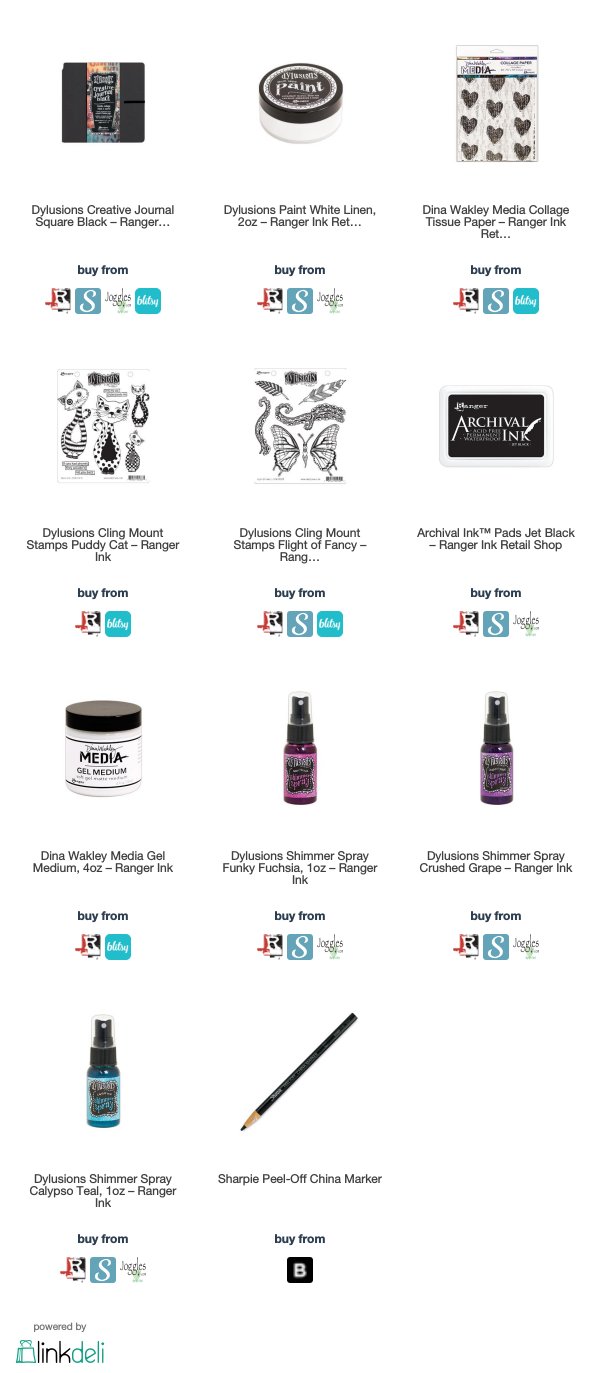 If you are having trouble seeing the thumbnails check out the list of products here: Product List