Hello,
Today I am back with another color theory share in my small Dina Wakley Media white art journal. I just wanted to take a little time and make a quick page and this journal is always just the right size. I wasn't sure exactly what I wanted to work on. Do you have that issue sometimes? I knew I wanted to do something but wasn't sure where to start. I decided to start with color and let that be my inspiration. I grabbed my Dina Wakley color charts to pick out three main colors. Then I also took out my Dina Wakley Media Collage Collective book and collage tissue to help me accent once I got going. Sometimes when you don't know where you going its best to grab out your favorite supplies stick them in front of you, pick one color and just start. Inspiration will kick in.
1. I took out my Dina Wakley Media Small White Journal.
2. I grabbed my Ranger Ink Gelli Plates and my Three (3) scribble stick colors (blackberry, lime and tangerine)
3. I used my gelli plates as my stamps. I wet the scribble stick in water would draw on the plate and used
the plate to stamp my journal page. This is how I got my background.
4. When I was done with two colors on the gelli plate I wanted to add another "texture" so I splattered using my scribble stick. You dip the end of it in water and dip a brush in water, then flick the brush off the end of the stick to get splatter.
5. Make sure you dry your page very well, and even use a paper towel (VIVA brand doesn't leave marks) to dry your page.
6. Now I brought in my Dina Wakley Media Collage Collective book. I looked for pages that has some of the colors of my journal page. I tore out a face image and some backgrounds. The face and a quote from another page I used as focal points. I looked for a gray page and tore that into vertical strips to put behind the face and quote to add more layers.
7. I used the heavy Dina Wakley Media collage gel as the pages were thick
8. Once I got that all good and dry I wanted more black to kind of ground the page. I took out some Dina Wakley Media Collage tissue and tore up a few bits to add some black to the page. Applying it with the gel medium.
9. Back to the heat dryer I went until the page was no longer damp.
10. Lastly, out came my stabilo all pencil that I used to create a border and add text. I then wet to darken the lines.
I am amazed and excited each time I dig into my Dina Wakley Media supplies. They just so well together, and with the Collage Collective book and the Collage Tissue, it really makes it easy and quick to create fun, interesting pages.
You can watch the whole process over on my Youtube channel: Dina Wakley Collage Collective Page
Here are stills of the pages:
I hope this quick little page will inspire you. Grab your collage collective or favorite ephemera and just go to town. The best times are when we are goopy, covered with paint and sparkle! Enjoy.
Below you will find the list of supplies. Note: These are affiliate links which mean I do receive a small percentage of any sales made. This helps me to keep running my website and Youtube channel. Thank you as always for stopping by!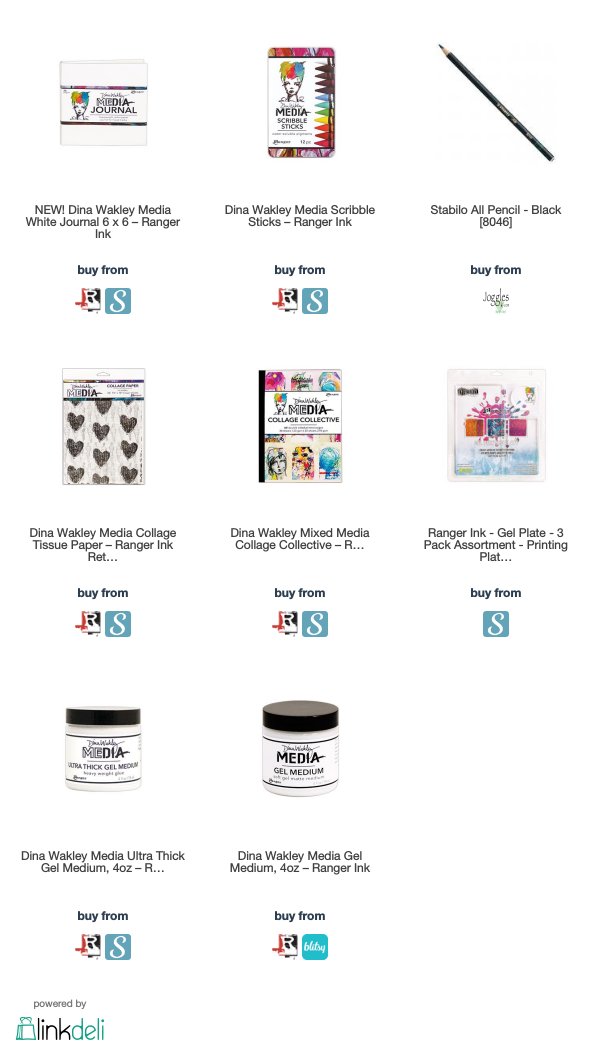 If you are unable to see the thumbnails here is a link to the list: List of Supplies