Hello my wonderful followers! I hope you are having a very merry holiday season. I have been swept up the in the glitter and making and have finally come up for a little break! I spend all last weekend making thirty handmade holiday cards to get out in the mail. My studio of course now looks like a mini tornado hit and the cats have been covered in glitter for days. I'm sure you can relate! It's a wonderful time of the year. Now since I have been tucked away making things for family I have been a little behind in sharing some latest treats with you. That's why today you are getting a double feature. Both of these card sets have aired on my Youtube in the last week, so if you want to get my most recent videos you can head on over there and hit subscribe and the bell icon and you will get notified when new videos hit there, before they hit the blog. (Youtube Channel)
Now on to the glitter! First up for you I have a set of really cute whimiscal cat cards. Any of you that have read my profile know I'm a rescue cat mom and when I saw this stamp at the Technique Junkies booth at Stampfest in July I knew I had to have it for Christmas. I paired it with some whimsical stencil background and voila! A Christmas card that is sure to make anyone laugh this holiday season.
You can see how I made thes cards in my video here: Embossed Christmas Cat Cardswhimsical
Here are some still shots:
These were 6 1/2″ x 4 1/2″ cards with a piece of 5 1/2″ x 3 1/2″ scrapbook paper applied, and the image was stamped on 3″ x 3″ watercolor heavy stock paper.
At the bottom I will post all the supplies used for both card sets.
Now, this next set was made assembly line style for a really quick holiday pick. I used a premade card blank, then one piece of scrapbook paper and one embossed stamp so it took maybe ten minutes to make six. A great way to make an elegant, kraft paper style, gold embossed "Season's Greetings" card. One tip I will share is that after making thirty cards this year I am definitely getting one of those tape guns next year. The sticking of the double sided tape did slow me down a bit.
You can watch the process video on these cards here: Gold Embossed "Season's Greetings" cards.
Here are some stills for you:
Now these cards were 7″ x 5″ with 6 1/2″ x 4 1/2″ pieces of scrapbook paper, and the black cardstock was the size of the stamp plus half an inch so about 3″ x 3 1/2″ ish.
Below I will list all the supplies used. I hope these two designs will get those creative juices flowing this holiday season. All you need is some cardstock, bits of scrap paper and one stamp and you can have a lovely set of embossed cards. Thanks for stopping by and happy making!
Embossed Cat Cards Supply List: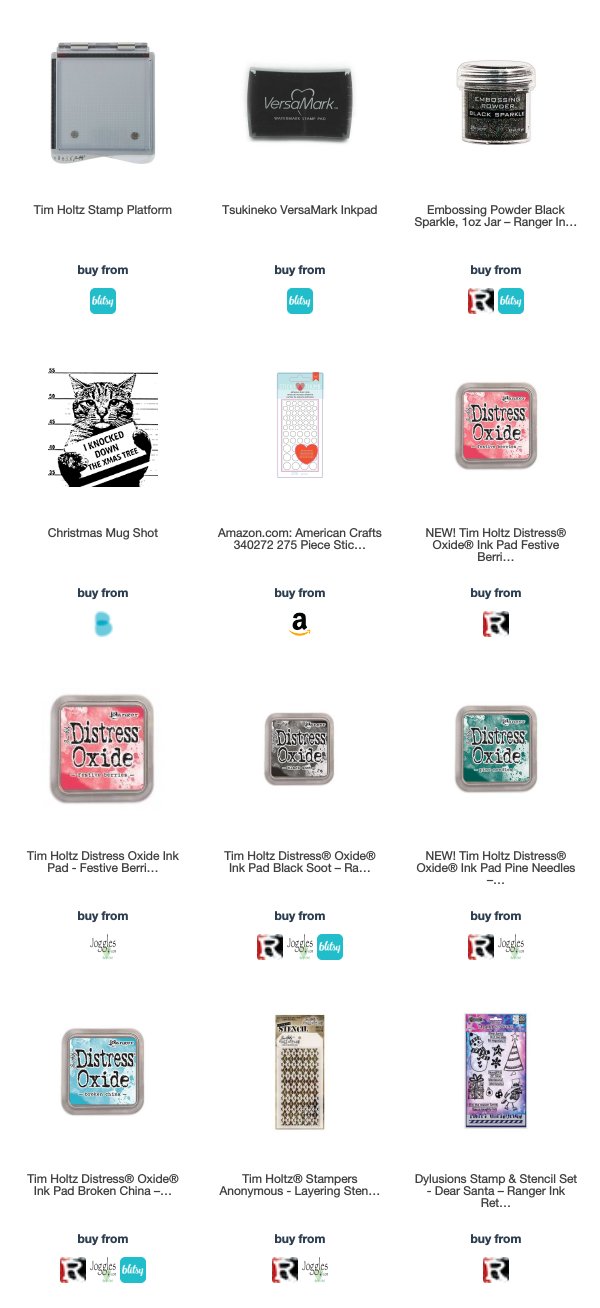 Embossed Season's Greetings Card Supply List: